Your Best-Self Guide to Epsom Salt Baths When Feeling Under The Weather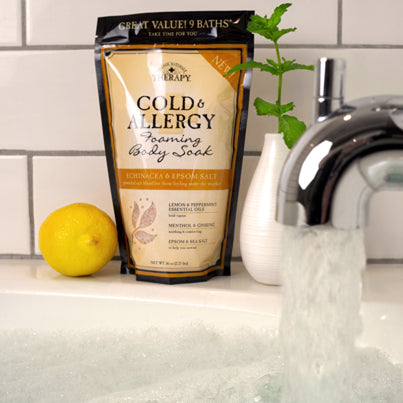 When we think of not feeling well and dealing with allergies and colds, we often think of the blooms of spring. But the reality is that allergies and colds can pop up any time of year, including the fall and winter. With big seasonal shifts from hot to cold, windy weather that dries out our noses and the peak in mold spores and ragweed pollen…fall is also the season for sniffles and sneezes.
In fact, overall in the U.S. about a quarter of adults deal with seasonal allergies, according to the Centers for Disease Control and Prevention as reported on NYTimes.com. And, every adult gets an average of two to three colds every year.
But worry not because Village Naturals Therapy is here to soothe the body when feeling under the weather — with a unique blend of Epsom Salt, Sea Salt, Bubbles and other key ingredients such as Echinacea and Ginseng.
Our key ingredient highlight will be to dive into the world of Epsom salts including their history, benefits, safety for children, when and how to take an Epsom salt bath and more to help you feel like your best self.
First, How Does Epsom Salt Work?
An Epsom salt bath soothes muscles and  body aches that come from not feeling well. You see, your skin is your body's biggest organ for getting rid of toxins. And, the magnesium and sulfur added to your bathwater via Epsom salts helps speed up this process.
The steam also helps to clear your sinuses while relaxing your body.
Now, a Quick Look at the History of Epsom Salt
"Epsom" is the name of a place in England where Epsom salts were found in natural springs. However, Epsom salt wasn't officially called Epsom salt until 1695, when a scientist named Nehemiah Grew gave a name to the "bitter purging salts" he found at Epsom. Since that discovery, Epsom salt has been used for over 400 on injuries and skin rashes.
How to Do an Epsom Salt Soothing Bath
STEP 1: Set the scene
Escape to your tub, lock the door, put on relaxing tunes and tune out the world. Getting your mind ready for relaxation is the key.
STEP 2: Set the temp
Ideal tub water temps are between 92°F and 100°F (33°C and 37°C). An easy way to test this is if it feels warm on your wrist, then you are good to soak. NOTE: Be sure water's not too hot.
STEP 3: Shake in the Epsom salt
We recommend using ½ cup of bath soak under warm, running water.
STEP 4: Soak it up
You can enjoy your Epsom salt bath for up to 20 minutes or just a bit longer to avoid drying your skin. Don't have time for a full-on bath? You can also enjoy a quick 15-minute foot soak.
Enhancing Your Epsom Salt Bath Experience
Adding essential oils and herbs can enhance the Epsom salt in different ways:
Baking soda
We all know that baking soda is essential when we're baking but did you know it's also known for its cleansing and detoxifying properties? And, when combined with Epsom salt, sea salt and ground ginger, you've got yourself a scent-sational bath.
Essential oils for aromatherapy
Adding essential oils like peppermint, clary sage, lavender, peppermint or tea tree to your bath delivers the added benefits of a sensory experience. Our Cold & Allergy Foaming Bath Soak is already infused with a powerful blend of Echinacea, Ginseng, Menthol with an uplifting lemon, peppermint scent.

TIP: Be sure to do the patch skin test to ensure you don't have any reactions to a new oil and always use as directed.
Epsom Salt in the Shower and On the Go
You can enjoy Epsom bath salts in the shower by placing the salt crystals on the floor creating a soothing aromatherapy experience or create your own salt scrub to soothe and exfoliate the body.
Here's one recipe for making your own salt scrub:
1 cup of Epsom salt
1/3 cup of almond oil, coconut oil or olive oil
1 tablespoon of vitamin E oil
Mix together in a bowl until it's a thick paste. Simply apply to your body using your hands, leaving on for 1-2 minutes and rinsing off.
Epsom salt soak on the go
Reality is that allergies and colds can pop up no matter where you roam. Be prepared with our Cold & Allergy Relief Concentrated Bath Soak in convenient, slip-in-your-bag, single-use packets.
But don't just take our word for it. Village Naturals Therapy fan Stacy says:
So, How Often Should You Epsom Salt Soak?
You can take an Epsom salt bath once a week,every 2 to 3 days or even everyday... Ending the day with a warm soak in the tub is a good way to soothe the mind and body and reset for the next day.
Are Epsom Salt Baths Safe for Children?
Overall, an Epsom salt bath is safe for kids when prepared correctly but be sure to follow instructions on the label and talk with your doctor or a pharmacist before trying an Epsom salt bath for kids. They can help you know how much Epsom Salt to use based on your child's age and health.
So Many Good-to-Knows to Epsom Salt Soak like a Pro
That's a lot of information to soak up, isn't it? That's why you might want to bookmark this page so you can come back and revisit when you need some Epsom Salt self-care — or just want to reminders on how to soothe the mind and body when feeling under the weather.
Now go soak up the colors of fall and the crispness of winter. All of us at Village Naturals Therapy are right here with an entire line of soothing bath soaks to help you make the best of every day, being the best you.
SOURCES:
A Brief History of Epsom Salt: What Is It, Exactly? Why Do We Bathe In It? And, Really? People Drink It? (2019, May 3) Retrieved from:
https://www.apartmenttherapy.com/a-brief-history-of-epsom-salt-242655
Is it a Cold or Allergies, NYtimes.com. (2023, April 9) Retrieved from:
https://www.nytimes.com/article/cold-allergy-symptoms.html
Epsom Salt for Colds and Flu, Epsom Salt Council (2023) Retrieved from:
https://www.epsomsaltcouncil.org/health/cold-and-flu/
Magnesium Supplementation in Children with Attention Deficit Hyperactivity Disorder, Science Direct. Retrieved from:
https://www.sciencedirect.com/science/article/pii/S1110863015000555
Epsom Salt Bath for Kids, babybatmoments.com (2021, November) Retrieved from:
https://www.babybathmoments.com/epsom-salt-bath-for-kids/#Is_an_Epsom_Salt_Bath_for_Kids_Safe.
Share